Mechanical model of competition and cooperation?
We investigate what kind of dynamics will occur when autonomous agents are mechanically connected with each other.
Illustrative example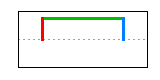 Consider two robots (

red

and

blue

) maintaining their balance.
Connect the tips of them by a

rod (green)

.
The

red robot

falls down purposely. (⇐)
As a result, the

blue robot

falls and the

red robot

returns to the standing position. Can this simulate JUDO maybe?
Review articles
Related movies
Publications
Grants
``Development of mechanical models representing competition and cooperation'' , Grant-in-Aid for Scientific Research of Japanese Ministry of Education, Science, Sports and Culture, 2009-2011.